Disney set to develop Johnny Depp's Don Quixote project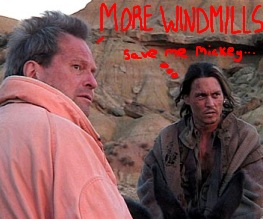 Disney, not content with forging a new batch of Star Wars, dropping Pixar in the recycling bin and exhuming its own back catalogue, have an exciting new project. Actually, it's an old project. Sort of. As some of you may recall, back before Jack Sparrow confirmed Johnny Depp as one of Disney's most valuable assets, Mr. Scissorhands toiled for a long while in the desert with Terry Gilliam, trying to extract a film from classic novel Don Quixote.
The resulting film was not their planned The Man Who Killed Don Quixote, but Lost in La Mancha, a cruelly hilarious document of the endless problems Gilliam and Depp faced as their passion project gradually turned into a production disaster. Now Don Quixote is back on people's lips, but without the involvement of Terry Gilliam. Instead, Depp has brought his own take on the tale to the feet of Mickey, with Disney behind the project.
Reportedly a modern-day re-imagining on the story, Depp is only listed as producer at the moment. If the project does get off the ground, it's difficult to imagine him passing on a role in an adaptation of what many call the greatest novel of all time. Steve Pink, director of what many call the greatest hot tub time machine movie of all time, is set to co-write with Jeff Morris. The combination of Disney, Depp and inestimably influential literature is a queasy one, and with Gilliam's own Don Quixote project left in development hell, it's hard not to feel a sour injustice at the heart of it all.
About The Author