Disney to release new Star Wars films until the end of time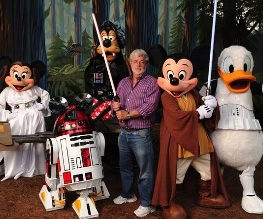 Disney revealed that they will be unleashing a new Star Wars film all over our faces every summer between 2015 and 2019. The company announced that Episode VII, to be directed by JJ Abrams, rolls out in 2015, followed by Episode VIII and Episode IX in 2017 and 2019.
For those bright sparks amongst you who noticed that there are some years missing – you're right. Disney plans to knock out some standalone films in the years in between. These spinoffs will reportedly focus on Boba Fett and Han Solo's early years, and Disney hope that each spinoff will form their own franchises in a similar vein to X-Men and Marvel's Avengers Assemble.
This is a very shrewd business move by Disney, clearly trying to make all of the money ever out of this franchise; but we guarantee that this will be at the expense of ACTUALLY MAKING A GOOD FILM. There's no news as yet on exactly who will be involved in any of the standalones, but it's likely that George Lucas will stay on as creative consultant. He better had if he doesn't want to see his creation completely ruined by the evil animation overlord Disney.
About The Author