Django Unchained action figures raise racial controversy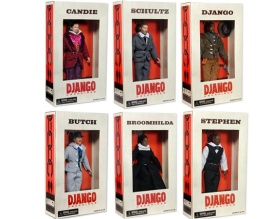 Quentin Tarantino's new film Django Unchained has already sparked controversy from its use of the 'n word' but now it is under further attack for the sale of action figures based on the characters of the film. The figures were designed as collectables by National Entertainment Collectables Association (NECA), in partnership with The Weinstein Company, for people over 17.
Tarantino has designed such figures for all his films, including Inglourious Basterds, which had characters from Nazi Germany made into action figures.The criticism has come from Najee Ali, leader of the advocacy group Project Islamic Hope, who described the merchandise as "a slap in the face of our ancestors", and called for them to be removed from Amazon, where they are currently on sale.
Customer reviews on Amazon so far agree with Ali, with one customer saying: "Slavery is not something to play with," and "These toys will fall in the hands of people who may think it is ok to mimic how slaves were treated. Please take these dolls off the market."
Ali made it clear that he didn't have a problem with the film, however, which he said he liked and went to see twice in the cinema. The Weinstein Co and NECA have not commented so far, but Django Unchained has already proved a massive hit at the box office, taking in $106.3 million since it opened at the US box office at Christmas. Django Unchained is due to be released in the UK on January 18.
What do you think about playing slavery with dolls? Let us know below.
About The Author