Dumb And Dumber 2 gets a plot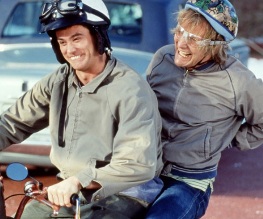 Jim Carrey doesn't want to make Dumb And Dumber 2. We established this back in June, when the Hollywood funnyman announced that he felt the studio weren't giving the sequel the attention it deserved. But it seems that Peter and Bobby Farrelly are a little Dumb And Dumber themselves, as they're still working on the film.
And now they've revealed the plot of the movie. Brace yourselves…
"I can tell you that there is no growth out of either one of them and it's 20 years later. The story revolves around the fact that one of them may have sired a child. They want to go and find the child because he's having a kidney problem and he wants to ask him for one of his kidneys."
Right. Nothing is quite as hilarious as a child in need of a major organ donation, after all.
The Farrelly brothers are very keen to get the stupid film (and by stupid, we mean, of course, that it is a film about stupidity) made ASAP, but it seems as if Jim Carrey and Jeff Daniels, the leads of the first flick, are causing a few issues with their ultra-busy schedules.
Actors are so inconsiderate, aren't they?
"We were hoping to shoot it very soon – this fall – but that didn't come to pass because of scheduling conflicts. Jeff has a successful TV show over here now so we have to work around that. We are planning on shooting it this coming spring and hopefully it will be out by next fall. That's the plan and that will be our next movie, we've already written the script. We're very anxious to get back in business with those two guys."
Well of course you are. After all, it's very difficult nowadays to pen an original story – gotta keep up with the age of the remake and "long overdue" sequel, after all.
Are you excited about Dumb And Dumber 2? Why?
About The Author