Dustin Lance Black "avoiding Taylor Lautner like the plague"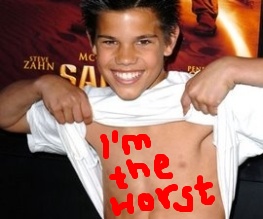 (….We may have added the quotation marks in for funsies)
What has happened to Gus Van Sant recently? First, the Oscar-winning director behind Milk and Elephant made that stupid film Restless (haven't seen it, making huge assumptions from the trailer) and now he is – as we have previously reported – getting into bed with Taylor Lautner. By that we mean that he is making a film with him. Despite the fact that Taylor Lautner is a foul, accursed thing whose most recent film Abduction flopped like nobody's business.
Word was that former Mormon Dustin Lance Black, who scripted Milk and the upcoming J. Edgar would be writing for the project. But recently, when asked about his involvement, Black said "I'm not writing that". Which pretty much clears that up. He also went on to lie: "I'm friends with Taylor". Stop lying Dustin! What a liar.
So who should be scripting this project? The Devil? Edward Cullen? Taylor Swift? No one? Hopefully it will be no one.
About The Author