Dwayne Johnson to star in new Russo Brothers production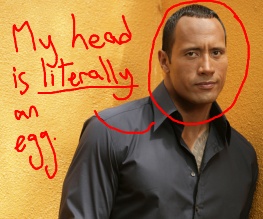 Dwayne 'The Rock' Johnson has signed on to star in Anthony and Joe Russo's next shit film, probably because he'll earn a lot of money for doing it. What? Sometimes it's just not worth looking for a joke.
The Emmy award-winning Russo brothers are good at making TV (Arrested Development, Community &c) but dreadful at films, as Welcome to Collinwood and You, Me and Dupree demonstrated to perfect effect. Their new project Ciudad, based on a graphic novel they wrote with Ande Parks, will star Johnson as a mercenary hired by a Brazilian drug lord to rescue his daughter in "one of the most dangerous and corrupt cities in the world", which probably means Mexico.
In other news, dear Dwayne has committed to Brett Ratner's Hercules project. Wonder if he'll spend most of it shirtless and gleaming? Good thing the pelt of the Nemean Lion won't get in the way of his pecs…
Why does Dwayne Johnson keep getting work? Let us know below!
About The Author