Eddie Murphy will be the worst Oscars host ever.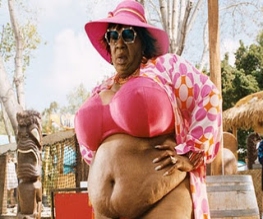 I know what you're thinking: "What, worse than James Franco and Anne Hathaway? Combined!?" I know, because admittedly I thought it too.
The first choice of next year's Oscars producer, Brett Ratner, Eddie Murphy is apparently surprised that he has been trusted with the job of hosting the 84th Academy Awards in 2012. That makes seven billion and one of us.
"I think it's so funny that people think I'm perfect for this", the Meet Dave star spewed to Entertainment Tonight, "I'm going to be horrendous. I'm going to be the worst host ever."
It is difficult to imagine what Murphy, who is set to co-star in Ratner's next movie, Tower Heist, could possibly bring to the institution that the likes of Billy Crystal, Whoopi Goldberg and Steve Martin couldn't; save one moustache and a tiresome penchant for prosthetics.
One thing, however, is clear: having promised to "wear a powder sky blue tuxedo" and "urinate on myself in front of a billion people", Murphy at least looks set to be at his most creative in years.
What do you think, reader? Comic legend? Or donkey on the edge?
About The Author