Eddie Redmayne joins Wachowskis' Jupiter Ascending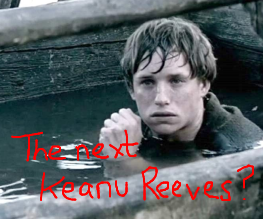 Eddie Redmayne is about to become a big name in Hollywood. Having been received rather well for his role in Les Misérables, Eddie Redmayne was in the running for the role of Harry Osborn in The Amazing Spider-Man 2, but he lost out to Dane DeHaan. Now he has been cast in the next Wachowski sci-fi epic, Jupiter Ascending, and we couldn't be happier.
Eddie Redmayne doesn't look like much, does he? Morgan Freeman might refer to him as "that tall drink of water with the silver spoon up his ass", but don't be fooled, Morgan! Eddie Redmayne was excellent in The Black Death (which apparently very few have even heard of), and he was also good in The Other Boleyn Girl. Being cast in a big budget Wachowski sci-fi film should do a lot for his exposure. He will be starring across from Mila Kunis and Channing Tatum, who should utterly emasculate Eddie Redmayne simply by being in the same room as him. Poor lad. We're sure he'll hold his own!
Jupiter Ascending comes from the folk who are bringing us Cloud Atlas, which wasn't received well by critics (or race-relation groups) but still looks amazing.
Here's the basic plot of Jupiter Ascending: "In a universe where humans are near the bottom of the evolutionary ladder, a young destitute human woman is targeted for assassination by the Queen of the Universe because her very existence threatens to end the Queen's reign." Well. It sort of sounds like King Herod in Space.
Eddie Redmayne and the Wachowskis are set to BLOW OUR UNEVOLVED MINDS when Jupiter Ascending lands on Earth in 2014.
Eddie Redmayne won't be Harry Osborne! What a shame. Do you think he'll land a role in The Justice League? Maybe as The Flash!?
About The Author