Elizabeth Olsen cast in The Avengers: Age of Ultron?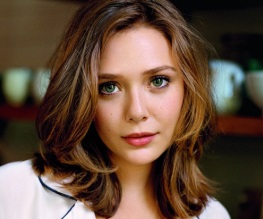 God bless Samuel L Jackson. During an interview with the Wall Street Journal (not, to be fair, a publication we often have cause to reference onsite), the muhfuggin' king of Twitter has let slip a thrilling sneak peek into Joss Whedon's forthcoming superhero saga sequel The Avengers: Age of Ultron. That peek? ELIZABETH OLSEN'S IN IT.
We love Elizabeth Olsen. We love her so much. She was outstanding in Martha Marcy May Marlene, she brought down the house in Silent House and she'll probably be good in the otherwise-awful Godzilla reboot that it's too late to do anything about. And now she's going to have superpowers. AY-OH!
When questioned about the Avengers sequel, Sam Jackson (who will be reprising his role as S.H.I.E.L.D. director Nick Fury) had this to say:
"I know we're shooting in London, that James Spader is Ultron and going to be the bad guy, and that we added Ms. [Elizabeth] Olsen, but I don't know what she's doing, if she's on the inside or the outside. I haven't seen a script."
We know what you're thinking – maybe he meant Mary-Kate or Ashley. Let's leave that to one side for the moment.
The general consensus among comic-book nerds with fewer friends than us is that Lizzie will be playing Wanda Maximoff aka the Scarlet Witch, an X-Men character known for being Magneto's daughter, Hawkeye's lover and various other mad stuff. She's also got extensive experience facing up against Ultron, and the evil robot's creation The Vision has previously served as a conflicting love interest for Wanda. Her brother Quicksilver is widely tipped to be played by Aaron Taylor-Johnson, despite the fact that his Kick-Ass costar Evan Peters is already playing Quicksilver in X-Men: Days of Future Past (this is what you get when you franchise your IP rights, people).
Anyway, all films are better with Elizabeth Olsen in. If you weren't already psyched about Age of Ultron, consider this your first reminder letter.
Who would you like to see playing Quicksilver? Anyone, literally anyone at all except Aaron Taylor-Johnson? Yeah, us too.
About The Author