Elizabeth Olsen will cover up as Scarlet Witch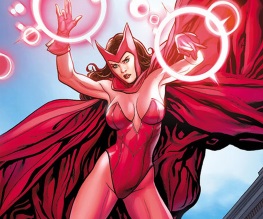 Our favourite Olsen sister has confirmed that she won't be presiding over a festival of tits in The Avengers: Age of Ultron.
Elizabeth Olsen, who will play Scarlet Witch in the culmination of Marvel Phase Two, is unexpectedly not going to wear the ridiculous costume (pictured) associated with her character's comic book origins. "I don't think Joss ever would have hired me, honestly, if he wanted me to wear those outfits," Olsen told Total Film. "I am not a professional athlete and nor am I a model. Wearing those costumes wouldn't be fun for anyone who wasn't those things."
We know Olsen isn't averse to being underdressed on screen – she spent half of Martha Marcy May Marlene jumping into lakes with her wabs out – but toning down Scarlet Witch's costume makes sound aesthetic sense. Maybe she could get away with it in the slightly more flamboyant X-Men universe (Scarlet Witch is Magneto's daughter, which is a continuity timebomb if ever we saw one), but the relatively sober costumes of the other Avengers – Cap, Hawkeye and Black Widow are all essentially in jumpsuits – would make a half-naked woman in a red cloak stand out a bit.
Scarlet Witch will be joined in Age of Ultron by her brother Quicksilver, played by Aaron Taylor-Johnson (and not to be confused with the Quicksilver appearing in X-Men: Days of Future Past, played by Evan Peters). There's no way his costume can be more stupid than anything he's worn in Kick-Ass, is there? Let's just hope there are no awkward 'so, what does your dad do?' questions when they're all getting to know each other…
About The Author