Ellen DeGeneres to return as Dory for the Finding Nemo sequel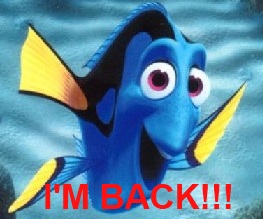 Fans of Dory, the forgetful blue wonder of Disney Pixar's Finding Nemo, will be overjoyed to hear that Ellen DeGeneres is in talks to return to the role for the Finding Nemo sequel.
The studio has yet to announce the sequel officially (or should that be o-FISh-ally?), but it's pretty likely that our fave Australian sea critters will swim back into our lives sometime in 2016.
THAT'S FOREVER AWAY!
But at least we know for sure that Ellen DeGeneres is on board – there's nothing quite like her blinding and unswerving optimism to make finding a lost clownfish seem like a good idea.
Amazing. Just amazing.
And, for those of you worried that Finding Nemo – Again! (our title) will lack the magic of the original, DON'T BE! The original film's writer and director, Andrew Stanton, is back on board and the new story is his very own original concept.
We're so excited for Dory's return. Although is anyone else suddenly in the mood for fish and chips?
About The Author