Emily Blunt heads Into the Woods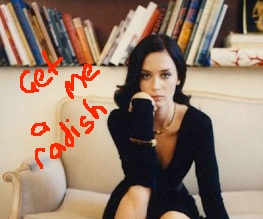 Amidst the rush of past and future fairytale adaptations leaving us cold, there's one that has us salivating just a little: Into the Woods. And our mouths are all the more drooly since the news that Emily "Total Babe" Blunt may be signing on.
Into the Woods is one of the more fantastical musicals of certified genius Stephen Sondheim. You might know him from such musicals as Company, Assassins and Sweeney Todd, that one Tim Burton ignored all the best songs from when he filmed it. The story revolves around the parents of Rapunzel, and weaves in Cinderella, Little Red Riding Hood, and Jack and the Beanstalk.
Emily Blunt is in talks to play The Baker's Wife, and if she signs on, will be joining James Corden as The Baker, Meryl Streep as The Witch, and Johnny Depp as The Wolf. Also rumoured to be joining the cast as the two Prince Charmings are Jake Gyllenhaal and Chris Pine.
It should be safe in the hands of director Rob Marshall; he's done a fairly solid job with musicals in the past. Yes, Nine was distinctly average, but that's really down to it being pretty bad to begin with, and it looked amazing. And, let's face it, we all watch Chicago more often than we'd like to admit. Don't we? Don't we all?
About The Author