Eminem to star in boxing movie Southpaw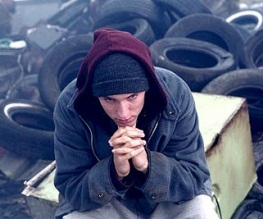 Eminem has confirmed his first starring movie role in 8 years! The project has been picked up by DreamWorks and has been written by TV series Sons of Anarchy creator Kurt Sutter. Eminem (aka Marshall Mathers) is to play the part of a young, successful boxer who finds his career halted following tragic events. Southpaw charts his struggle to dust himself off and get to the top once again.
Although the rapper met with much praise for the acting abilities he demonstrated in 8 Mile, we haven't heard anything from him since; he's reportedly very choosy about the roles he takes. This latest project is the product of seven years liaison between Eminem's people and Sutter, and the plot seems to stick to the formula of Mathers previous hit:
"In a way, this is a continuation of the 8 Mile story, but rather than a literal biography, we are doing a metaphorical narrative of the second chapter of his life. He'll play a world champion boxer who really hits a hard bottom, and has to fight to win back his life for his young daughter. At its core, this is a retelling of his struggles over the last five years of his life, using the boxing analogy. I love that the title refers to Marshall being a lefty, which is to boxing what a white rapper is to hip-hop: dangerous, unwanted and completely unorthodox. It's a much harder road for a southpaw than a right handed boxer."
One has to wonder, with so many obvious comparisons with 8 Mile, will this be a repeat success or just a straight-up repeat? Watch this space….
About The Author