Emma Stone to play Mary Jane in Spider-Man reboot?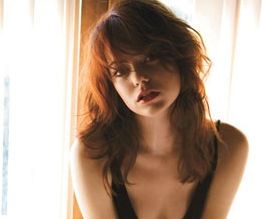 It has been reported today that Emma Stone, the cute yet surprisingly husky voiced actress from Superbad and Zombieland, will "imminently" be offered the role of Mary Jane Watson in Sony Pictures' upcoming Spider-Man reboot. With Stone's recent roles showcasing the sort of feisty, hard to get spirit that was lacking from Kirsten Dunst's portrayal, and with her fresh faced looks staying in keeping with the film's "back to school" approach, she may well prove an excellent choice.
But hold those horses! Before we get too caught up in the idea of an aloof Stone being pursued by another well-to-do geeky type, another factor needs to be considered – namely that Mary Jane may not actually be this film's main love interest. Gwen Stacy, played in Spider-Man 3 by Bryce Dallas Howard (just one of that film's many nonsensical plot additions) was Peter Parker's first love in the comics, with Mary Jane becoming more pivotal in later storylines. Rumour has it, the new saga may follow this original arc.
So, athough Stone may have beaten competition for a role that will prove big in Spidey's future, the position of Gwen remains an ongoing battle. Current suggestions name the leading contenders as Glee's Dianna Agron, Mia Wasikowska (Alice in Wonderland), Georgina Haig (TV's Underbelly) and Dominique McElligott (Sam Rockwell's wife in Moon). With at least four names still in the hat, and with Gwen's most iconic scene already re-written for the climax of Sam Raimi's first Spider-Man flick, much mystery still remains about how this film's love affairs will play out. Oh, what a tangled web we weave!
UPDATE: 'Natural blonde' Emma Stone will in fact play Gwen Stacy!
About The Author