Emma Thompson to write Will Smith's Annie remake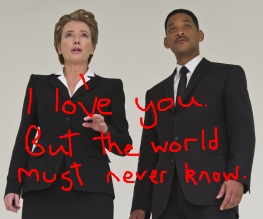 Oscar-winning screenwriter (and, you know, actress) Emma Thompson has confirmed that she will be writing the book for a new version of classic musical Annie, to be produced by Will Smith as a vehicle for his daughter Willow.
Thompson, who won her second Oscar in 1995 for her adaptation of Sense and Sensibility, will be collaborating with hippity-hoppity music person Jay-Z on the film. Mr Z will be laying down phat beats on 'Tomorrow' and demanding that all the orphans break-dance, or something.
Will Smith can scarcely be separated from Emma Thompson at the moment, with their film Men in Black 3 due out today/yesterday/next month (time travel's a bitch) and a previous collaboration in I Am Legend already under their respective belts. In unrelated (or is it?) news, earlier this month Will and his wife Jada Pinkett Smith were forced (for the second time in under a year) to address persistent rumours that they are to divorce. We're going to be the first to call AFFAIR! They look so pretty together…
Cambridge! Philly! Has love ever crossed such boundaries?
About The Author