Empire Awards are in!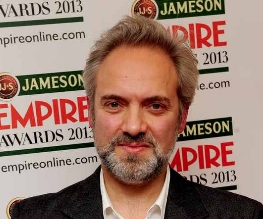 Last night the readers of Empire magazine voted in their hoards for the 2013 Jameson Empire Awards. And the results are in!
The two main stars of the evening where undoubtedly James Bond and Sam Mendes, with Skyfall (sort of) making up for its disappointments at the Oscars and Baftas and picking up the award for Best Film. Mendes also won gongs for Best Director and the Empire Inspirational Award. The director was clearly particularly chuffed with the latter, saying: "If I feel like my films have inspired a couple of people, a couple of kids who are sitting in the back of a dark auditorium, then it's been worth it." Sam Mendes: does it for the kids.
Following Tim Burton's win last year, Dame Helen Mirren was given the Empire Legend award, which celebrated her career, which spans five decades and includes such memorable films as Gosford Park, The Queen and this year's Hitchcock. The 67-year-old joked that she felt too young to be given the award: "Really? Do I have to be a legend already? Can't they wait 20 odd years and then make me a legend?' But that's alright, I'll take it." She wasn't all sweetness and light however, expressing that she was a bit miffed with Mendes for not mentioning any women in his acceptance speech: "Hopefully in five or ten years, when Sam's successor is collecting their Inspiration Award, the list will be slightly more balanced in terms of its sexual make-up." In his defence Helen, there aren't THAT many female directors out there…
We presume that Danny Boyle left the ceremony a happy man, taking home another edition for his mantlepiece: the Empire outstanding contribution Award. He got this for, well, his outstanding contribution to film, which includes hits such as Shallow Grave, Trainspotting and Slumdog Millionaire. There was an interesting choice for the Empire hero award… Daniel Radcliffe. Radcliffe joined the list of (slightly strange choice of heroes if you ask us) past winners, including Keira Knightly and Jude Law. The Woman in Black, in which Radcliffe stars, also won the award for Best Horror.
Best For Film's best film of all time Avengers Assemble and the distinctly less good The Hobbit: An Unexpected Journey were neck-and-neck with five nominations each. But (and we don't agree with this at all!) The Hobbit was victorious, claiming two wins for Best Sci-Fi and Fantasy Film. It seems the lovely Jennifer Lawrence can do no wrong this year (and rightly so, damnabbit!). She went home with a very illustrious paperweight indeed: for Best Actress in The Hunger Games. Best male and female newcomers went to Tom Holland (The Impossible) and Samantha Barks (Les Misérables), in that order.
Seth Macfarlane's Ted won Best Comedy and Morten Tyldum's Headhunters bagged best Thriller. Dredd 3D picked up the Art of 3D award while the Best British Film was awarded to the brilliant Sightseers and was accepted by stars Alice Lowe and Steve Oram.
If you want to watch the awards in full you can watch it on March 30th on Sky Movies at 8.30pm.
Do you agree with the winners this year? Let us know your thoughts!
About The Author