Eric Roberts to star in The Human Centipede III (Final Sequence)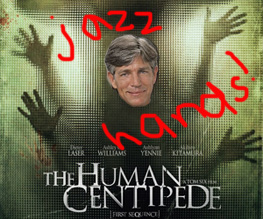 Eric Roberts – the man, the actor, the legend – has reportedly signed up to star in the third instalment of Tom Six's The Human Centipede series. This is a thing that is actually happening. ERIC ROBERTS – BROTHER OF JULIA, FATHER OF EMMA, LORD OF OUR HEARTS – IS GOING TO BE IN THE THIRD HUMAN CENTIPEDE FILM, THE HUMAN CENTIPEDE III: NOW WITH MORE BUTTS! (working title). The film is set to take place inside a prison and involve a 500-person-long centipede, naturally. It will also feature Dieter Laser and Laurence R. Harvey (the villains of the first two films), porn actress Bree Olson (most famous for her dalliance with Charlie Sheen) and director Tom Six himself. What a hilarious ragtag band of misfits!
It's hard to say what could have possessed Roberts to do such a thing. Maybe he's tired of being in the shadow of his sister and wants to make a name for himself as a torture porn star. Maybe he lost all his money to a Ponzi scheme like Kevin Bacon and is cashing in on a notoriously lucrative franchise (making Human C3ntip3d3: R3qiu3m his EE adverts). Maybe it's a cry for help, Britney-shaving-her-head style. Or maybe, just maybe, Eric Roberts knows something we don't. Maybe the Human Centipede films have been a four year long inside joke at the expense of the horror industry, and at the premiere of the The Human Centipede 3: The Human Millipaedo, Tom Six will pop out, shout "SURPRISE!" and tear off his face to reveal Joaquin Phoenix.
That seems more plausible than Eric Roberts being legitimately cast in this film.
The Human Centipede III (Final Sequence) is set to be released this year. WILL YOU BE WATCHING?
About The Author