EVEN MORE Dark Knight Rises TV spots released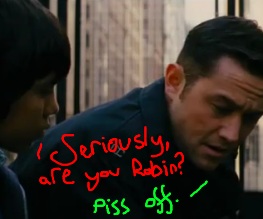 Right, we're just not going to complain any more. You – that's the rest of the Internet – are obviously all pretty happy about the endless flood of Dark Knight Rises promotional material eroding the fragile, beautiful experience of seeing a Christopher Nolan film for the first time, and who are we to piss in the faces of the mindless majority? We're just going to acknowledge that they all exist, and put them here to watch if you want; in two months' time, when you go to see the film and realise you've already seen half of it on YouTube, perhaps you'll remember that we spoke out.
Here's the first of two new TV spots, in which Bane shows off his kookiest voice yet and Bruce Wayne gets some shiny new toys from his fixer Lucian Fox:
And here's the second, in which we learn that Bane comes from 'Hell on Earth' (hardly, Tom Hardy was born in Hammersmith) and that Catwoman's a sneaky wee bitch. We already knew that, guys:
Ho hum. Please, guys, please stop making us bored – we must have seen that punch outside the courthouse or whatever three hundred times by now. Everyone likes surprises!
How do you think Christopher Nolan would feel if we went round to his house every few days for the five months before his birthday and showed him tiny little bits of his birthday presents? Hmm?
About The Author