Evil Dead first trailer now online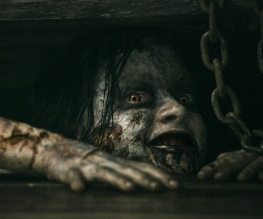 As you may have heard, Sam Raimi's cult horror The Evil Dead has been exhumed, dusted off and given a fresh lick of paint for our viewing pleasure. Arriving next year, it encouragingly has the blessing of Raimi and original star Bruce Campbell, the lantern-jawed hero of the series. Last week we got an early image. Now we've been blessed with a trailer, and while it doesn't look like Evil Dead is trying to emulate any of the original's wackiness that gave pause for breath amid the slaughter, it's certainly invested in its spirit of blood-soaked mayhem. And Tree-rape.
Along with Raimi and original producer Robert Tapert, Campbell reassures us that they're sticking to the recipe: "It's going to be a horror extravaganza…this movie is going to blow the fricking doors off. It's just five new actors and a nasty book they should have left alone."
This year's The Cabin in the Woods may have provided a fresh twist on the old, er, 'cabin in the woods' horror schematic, but a return from The Evil Dead should at least prove a straightforwardly nasty respite from the narcoleptic visions offered by the likes of Paranormal Activity. The Evil Dead trilogy remains the only series of consistent perfection in all cinema, so let's hope 2013's reboot proves a fitting tribute. It certainly appears to be.
About The Author