Fans can chant their way onto The Dark Knight Rises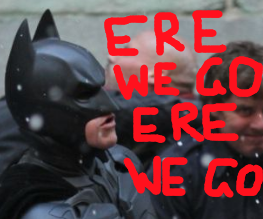 You're probably aware of a little film coming out in 2012, the final in a certain Batman trilogy – the name escapes us at the moment, but you'll almost definitely have heard of it. Anyway, WANT TO BE IN IT? WANT TO BE IN THE DARK KNIGHT RISES?
Alright, so maybe not your actual body and face, BUT there is a chance that your very best chanting voice could end up in the final cut of Nolan's finale. "HOW?" we hear you warm-up-chat as one. Well. Apparently Hans Zimmer has worked in some bad-ass Moroccan chanting (actual lyrics, properly for real: Deh-shay, deh-shay bah-sah-rah, bah-sah-rah) and if you upload yourself having a bash at it you might end up in the film itself.
This is what Zimmer has to say about the entire fandango:
"I'm shining the bat-signal up into the sky to call you all! We need to hear your voices! Now and Loud! We are creating the sound of a worldwide chant. Everyone come and be part of it. It's easy:There is no such thing as out-of-tune, no timing we can't fix later. If you mumble, growl, scream or whisper, it's all good. Make it yours. If you only get halfway through, no problem! Do it alone, bring your friends, but do it with energy and commitment.Let your voice be heard and be a part of our adventure! So we need every one of you out there to join. By signing up and recording your voice, you could be a part of "The Dark Knight Rises".
Want to learn more? Go here. Something to do, isn't it eh?
About The Author