Fantastic Four reboot will soon have its leads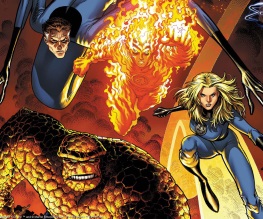 Josh Trank's reboot of the woefully underused Fantastic Four is well under way, with script rewrites completed and casting news expected within the month.
Miles Teller, Kit Harington and Richard Madden are all expected to audition for the role of Reed Richards aka Mister Fantastic (the bendy chap played by Ioan Gruffudd in the previous two films), whilst Kate Mara and Saoirse Ronan are the front runners for the role of Sue Storm aka The Invisible Woman (formerly Jessica Alba, God rest her career).
Michael B Jordan is already confirmed as Johnny Storm aka The Human Torch (originally played by Chris Evans, who's now busy being Captain America), with no news yet on who'll take over from Michael Chiklis as Ben Grimm / The Thing. Jordan is expected to run some test scenes with the hopefuls to see which group has the best chemistry on camera.
Josh Trank rose to prominence when he directed the spectacular found-footage sci-fi Chronicle (starring Jordan) a couple of years ago; he's since been linked to the putative Venom spin-off, but he's since been displaced; it looks like The Fantastic Four will end up being his big budget superhero debut.
Simon Kinberg, who wrote X-Men: Days of Future Past (probably yay!), X-Men: The Last Stand (eek) and Jumper (kill us), has been polishing the script, which has previously been worked on by several writers including Seth Grahame-Smith. Matthew Vaughn will produce, which is never a bad thing. We'll be waiting until next June to find out how all this fits together, but for now it sounds like the Fantastic Four are in safe hands.
About The Author