Film 4 FrightFest announces line-up for Halloween film all-nighter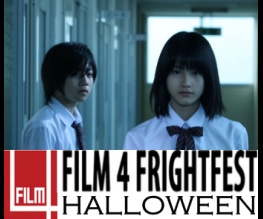 Revenge Japanese style, American psychos, sharks, cannibal girls and a Finnish nightmare before Christmas – it can only be Film4 FrightFest's Halloween all-nighter event – taking place this year at the Empire Cinema 2, Leicester Square on Saturday October 30, 2010.
FrightFest's all-nighter for Halloween 2010 features a plethora of scary movies including a fantastic line-up of world or UK premieres, sneak previews and a Retro Classic to scare you, dazzle you, make you jump and creep you out.
Kicking off at 6pm is Japan's official Oscar contender Confessions, a twisted revenge saga directed by Tetsuya Nakashima (Kamikaze Girls). Expect the psychological warfare of crime and punishment to be brought to stark life in the fashion of Park Chan-Wook's Vengeance film trilogy.
Next, the bar is raised with Altitude, a Twilight Zone-esque tale about high-flying teenagers trapped in a deadly showdown with an airborne supernatural force. Altitude will be followed by haunted house shocker The Silent House, this year's Cannes sensation by director Gustavo Hernandez.
The Midnight Madness film slot goes to World Premiere presentation Choose, a scary movie starring choicemaster Scarlip that will see you through to sunday. Once you've made the choice to embrace sleep dep and keep on trucking, there's grief on The Reef in a wilderness survival thriller from Black Water director Andrew Traucki, the scariest shark chiller since Jaws.
By this point you should be feeling a bit dozy and desensitised to scary movies. It is therefore time to face The Picture with the WARNING BELL. Then you'll be ready for Ivan (Ghostbusters) Reitman's 2010 retro film classic Cannibal Girls in all its gimmicky, gruesome and gagsome glory. And to finish? A Finnish fairytale currently garnering ecstatic world-of-mouth on the festival circuit. Rare Exporta: A Christmas Tale is unlike any Santa Claus movie you've ever seen before. Do not dare fall asleep for this one.
Tickets cost £50 and go on sale on Saturday October 2. To book, go online to: www.empirecinemas.co.uk. For full programme & timetable log onto www.frightfest.co.uk.
About The Author