Final poster for The Hunger Games: Catching Fire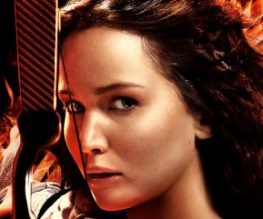 Lionsgate seem to be looking at advertising like a chess game when it comes to the next Hunger Games sequel. Around March, we caught our first glimpse of the rather extensive and note-worthy cast in a poster series entitled the Victory Tour portraits.
This Capital-esque line of faux paintings was then followed up by another set of images, this time featuring those tributes (anyone else remember the Running Man at the sight of these costumes?) that would be playing at the 75th Hunger Games. The marketing ploy was rather ingenious: instead of a mere teaser, the posters became a quest. Fans were being reeled in, countless months before the November 22nd release of the movie, with the need to see (maybe even collect) every possible print released.
So it seems somewhat surprising that their final poster would be such a lacklustre affair. If you cast your mind back you'll remember that the background is actually from one of the very first teaser posters featuring the Catching Fire logo. This time they've just added a wind-blown and armed Katniss over it. Nothing we can see to get all that excited about, but it's the "final" poster and frankly we're too afraid of the tween generation to argue so here you go. Click to enlarge:
Sight is only one of the ways which Lionsgate has chosen to woo the crowds. In September Coldplay's Atlas surfaced online and now We Remain by Christina Aguilera has joined the ranks of auditory enticement. Joining them on The Hunger Games: Catching Fire soundtrack will be the likes of Ellie Goulding, The Lumineers and Sia and will tie in to the film's release with a November 18th UK arrival.
Based on the second volume of Suzanne Collins' YA trilogy, The Hunger Games: Catching Fire takes us back to the state of Panem which has found itself in the infant stages of a revolution. Katniss (Jennifer Lawrence) and Peeta's (Josh Hutcherson) win during the 74th annual Hunger Games sparked an uprising for which President Snow (Donald Sutherland) holds them responsible. He looks to the 75th Annual Hunger Games a.k.a. the Quarter Quell for the opportunity to rid himself of the tributes and thus the mutinous threat. Liam Hemsworth, Woody Harrelson, Elizabeth Banks, Lenny Kravitz and Stanley Tucci will all be back in their supporting roles with Philip Seymour Hoffman, Jeffrey Wright, Sam Claflin and Jena Malone adding further meat to what looks like a promising sequel.
About The Author