First Battle: Los Angeles trailer explodes online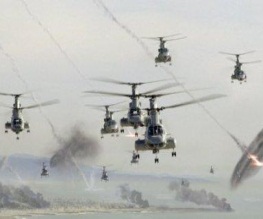 Have you ever played Hollywood Snap? Every so often, two films appear on the horizon that are so similar that even plagiarism doesn't seem a viable explanation.
With Megamind recycling the 'good supervillian' plot point from Despicable Me and Dear John rewriting Letters to Juliet, it looked as though 2010 had reached its quota of cinematic doppelgängers. That might be the case, but with Skyline arriving in cinemas today you will not have to wait too long before once again dusting off the old deja-vu.
You see, the official trailer for Battle: Los Angeles has exploded online, promising an alien invasion told from the perspective of grounded individuals – sound familiar?
However, while the Brothers Stause's (obligatory cringe) follow up to 2007's abysmal Aliens vs. Predator: Requiem has the potential to either sink or swim, the Battle: Los Angeles trailer promises a solid addition to the alien invasion genre. An effective soundtrack, innovative direction and gritty realism suggests that Hollywood may this time be leaving the best for last.
Directed by Jonathan Liebesman, and starring Aaron Eckhart alongside the criminally underrated Michelle Rodriguez, Battle: Los Angeles (or World Invasion: Battle LA as IMDB now designates it) will invade cinemas on March 25, 2011.
About The Author