First damn classy picture arrives for Anchorman 2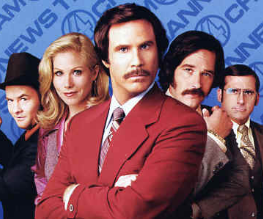 Now, considering that his Casa De Mi Padre is quite good fun, The Campaign looks fairly mediocre and the horror of Year One can speak for itself, there are a quite a few reasons not to feel too too confident in Will Ferrell's upcoming output. So how should one feel about Anchorman 2? Dammit, we can't help looking forward to it. Blame Sex Panther, we always do.
After eight years away the world's most incompetent news team is back, and having finally initiated one of these women we hear so much about into their ranks could it be that things have changed? According to this picture, no. No they can't. Sporting his trademark blazer, moustache and seductive glare, Ron Burgundy looks like he's never been away – which probably means the script is great and has lots of original things to say. Yeah. Anyway, PICTURE!
There's also a teaser on the way, which will be a far better indication of how classy them San Diego dreamers have stayed. The trailer will play before certain screenings of The Dictator, which means it will hit the interwebs approx 4 seconds later. Hurrah!
About The Author