First full trailer for The Double is magnificent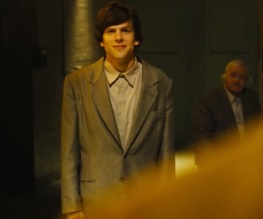 Man, we are so excited about The Double. Richard Ayoade's directorial debut Submarine was a near-perfect film, lyrically written and visually arresting without losing its humour and excitement. The Double, based on the novella by Dostoyevsky, looks better.
Picture the scene. You're a lonely, timid, easily ignored clerk, overlooked by the woman of your dreams and scorned by everyone from your mother to your boss. It's probably not too hard to imagine – you are, after all, on a film website in the middle of the working day. And then imagine that someone new walks into your life. He's charismatic, powerful, seductive – everything you're not. And he has your face.
Starring Jesse Eisenberg, Mia Wasikowska, Wallace Shawn (who we've gone off a bit today because he's come out in support of Woody Allen) and James Fox, The Double looks just as atmospheric and engaging as Submarine, but with a little more playful absurdity. We're very excited.
What do you think of The Double? You think it looks boss, right? Right.
About The Author