First image for The Tomb
It's all go for Arnold Schwarzenegger at the moment; The Expendables 2 had its UK premiere in Leicester Square last night, The Last Stand is currently in production and now the first images of his upcoming prison-break epic The Tomb have been released, which sees him reunited with old chum, Sylvester Stallone.
Directed by Swedish filmmaker Mikael Håfström, Arnie plays the cell mate to Stallone – an architect who finds himself framed and imprisoned in an inescapable prison that he designed. Stallone plans his escape, aided by Schwarzenegger, a 'soulful and complex' inmate, and a third escapee, 50 CENT. Good Heavens, what a line up.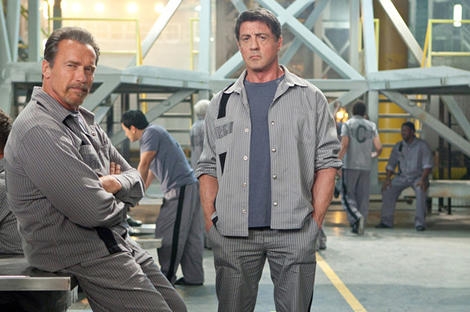 For a pair who are knocking on the door of the official US retirement age, aren't they looking great? All silver foxed and muscley, I'd let them break me out of prison any day. If you can't wait for more Stallone/Arnie action, try and contain yourself until Thursday where you can catch them in The Expendable 2 alongside, get ready, Jason Statham, Dolph Lundgren, Bruce Willis, Chuck Norris, Jet Li, Nan Yu, Liam Hemsworth, Randy Couture, Terry Crew and Jean-Claude Van Damme as the villain called…Jean Villain. We imagine they'll be lots of exploding in place of proper talking. Here's a lovely photo to keep you going til then. Don't you just wish you were an action hero?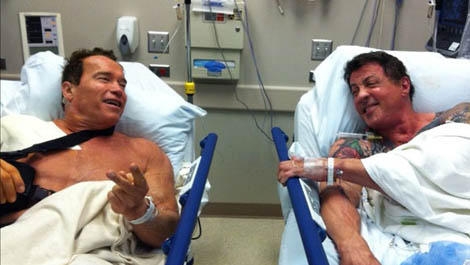 About The Author