First Image From Harry Potter and the Woman In Black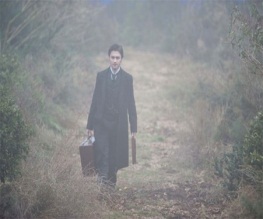 As if there weren't already enough images of Daniel Radcliffe peering from media outlets everywhere in anticipation of Harry Potter and the Deathly Hallows, Hammer Films and Talisman Productions have decided to release the first official photo of the actor's Arthur Kipps in their upcoming reimagining of The Woman in Black.
Directed by James Watkins, the film will co-star Ciarán Hinds, Sophie Stuckey, Alisa Khazanova and Janet McTeer opposite the Boy That Lived.
Scheduled for release next year, the film – written by Kick-Ass penner Jane Goldman – will follow Radcliffe's young lawyer as he begins to uncover tragic secrets while taking care of a deceased client's papers. Stranded in a remote village where the locals rarely speak, he must confront the film's titular spectre when her true intentions become chillingly clear.
The image is steeped in Hammer tropology, eloquently conveying the isolation and melancholy which – if the reformed studio's debut, Let Me In, is anything to go by – will permeate the forthcoming feature.
About The Author