First Image Lands For Breaking Dawn Part 2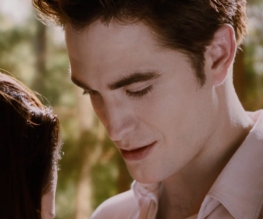 Clearly looking to distract their rabid fanbase before they can finish drowning Uma Thurman, Kristin Scott Thomas and Christina Ricci in hate poetry (Get away from R-Patz/ Or I'll slit your big fat horrible throatz), Summit Entertainment have released the first image from Twilight: Breaking Dawn Part 2. At least, that's what they say it is; to the untrained, unindoctrinated eye it could be a screen grab from any of the previous four instalments.
The film's trailer is set to début before screenings of The Hunger Games when it's released on the 23rd of March, a big mistake if you ask us as just about everything which has happened in that unenlightened time period (except perhaps the dinosaurs) will be quickly forgotten when the general public is introduced to Suzanne Collins' fantastically unMormon creation.
For anyone still interested, Twilight: Breaking Dawn Part 2 is set to reunite Kristen Stewart, Robert Pattinson, Taylor Lautner, Anna Kendrick, Elizabeth Reaser, Billy Burke, Michael Sheen, Jackson Rathbone, Ashley Greene, Dakota Fanning, Nikki Reed, Kellan Lutz, Jamie Campbell Bower, Mackenzie Foy and Maggie Grace under the direction of Bill Condon for one final assault on the vampire myth.
Twilight Breaking Dawn Part 2 is scheduled for release on November 16 of this year.
About The Author