First images for Django Unchained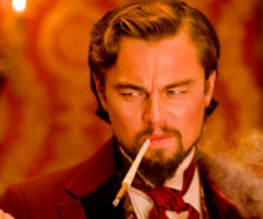 OK, to be fair we did get a cheeky peek at the Django Unchained set the other week, but it was more a showcase of Quentin Tarantino's criminally boring t-shirts than anything. FINALLY, we've got a couple of proper images, including what we've all been waiting for: DiCaprio looking totally splendid and evil. HURRAH!
At this point, we're sure you're aware of the drill – Jamie Foxx plays escaped slave to Leo DiCaprio's dastardly land baron, Christoph Waltz is the bounty hunter Foxx teams up with in order to bring some hard-core justice. GO:
What are you doing with that hammer, Leo? Something RACIST, we bet.
The star-studded Django Unchained (we're talking all of the above plus Kurt Russell, Samuel L. Jackson, Kerry Washington, Don Johnson and more) doesn't hit UK shores until January of next year. But as yet we're not bored of it! Yay!
About The Author