First photo released of Matt Damon in Elysium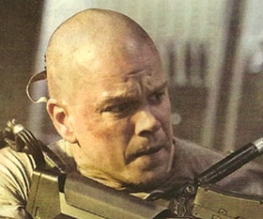 Director Neill Blomkamp's first project since 2009's District 9 has been ludicrously difficult to get any information on, but it's ALL FINE NOW, because Matt Damon is here with a very big gun and a bionic arm Tony Stark made in preschool out of lolly sticks to give us some scoop! Elysium is due for a March 2013 release date.
Take a look at the first snap from the film here (click to enlarge):
Elysium is named after the ancient Greek realm of the afterlife reserved for the mortal relations of the gods, and in typically pompous Blomkamp fashion, is also the name of the man-made space station on which the one-percenters of 2159 live. The Earth from which this subsect of people are hiding is one which appears to be populated by the cast of The Only Way Is Essex in triplicate without contraceptives. We can only hope that just out of frame is Jodie Foster, who will play the evil anti-immigration politician Secretary Rhodes (read: Ed Miliband) opposite Damon's Max, who will take on the mission to bring equality and proper wealth distribution to these two worlds. So far, so Labour. Until you introduce the aliens and the guns, in which case this becomes a far more American sort of deal.
With appearances from Diego Luna (Y tu Mamá También) and William Fichtner (The Dark Knight), and a cracking set designer in Syd Mead (Blade Runner, Tron), we are pumped to hear just a little bit more about Elysium at Sony's presentation at Comic-Con next week. Not as pumped as Matt Damon, unfortunately, but that's because the BFF Towers Snack of the Week is flapjacks.
About The Author