First pics of Johnny Depp in Dark Shadows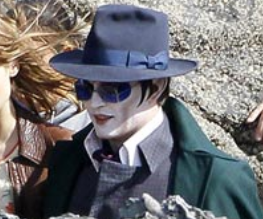 We've not heard much from team Tim Burton since he started filming tongue-in-cheek horror Dark Shadows earlier this year – presumably because the world already has enough photos of Johnny Depp and Helena Bonham Carter in funny hats – but finally we can reveal a couple of shots. And… yeah. Prepare to feel entirely vindicated.
Based on a 70s soap opera, Dark Shadows follows the trials and tribulations of Barnabus Collins – just your average vampire searching for his lost love in a world of zombies, mummies and werewolves. For a bit of context, here's what he looked like when originally played by brilliantly named Jonathan Frid:
And here's Depp's Barnabus with Burton-juice chucked all over it:
Blue sunglasses, eccentric sideburns, a dapper but slightly incongruous hat – yep, that's Johnny Depp In A Tim Burton Film alright. More photos of Helena Bonham Carter with Big Hair and Dark Eye Makeup as we get them!
About The Author