First pics of Rooney Mara as Lisbeth Salander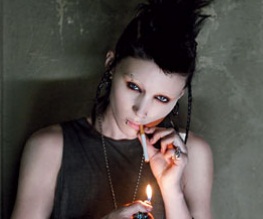 When it was announced that Rooney Mara (of The Social Network and A Nightmare On Elm Street) was taking the role of Lisbeth Salander in David Fincher's re-make of The Girl With The Dragon Tattoo, I think its fair to say we had mixed emotions. A little disappointed that Noomi Rapace couldn't just reprise the role herself having done such a brilliant job in the Swedish original, and relief that it wasn't Keira Knightley. Well, the first pics of her in character are now online, and we have to say, she looks fantastic.
The pics originated in W magazine, but invariably ended up online. We've snaffled the best ones for you, take a look:

What's important to bear in mind with the character of Lisbeth Salander is that though she's sexy n that, she's also absolutely terrifying. We were worried that Fincher might just up the sex factor and leave all the scary stuff behind, so its nice to see that pretty-girl Rooney has been dirtied up a bit. According to W Magazine, to prepare for the part Rooney had had her eyebrows bleached, her hair chopped, and her lip, brow, nose, and nipple pierced—all in one "very intense" day. Whew. Our fears are officially laid to rest. What else ya got, Fincher?
About The Author