First picture of Anthony Hopkins as Alfred Hitchcock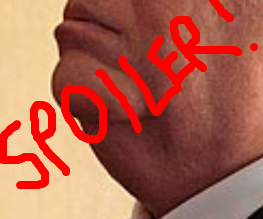 The last thing we heard about the catchily titled Alfred Hitchcock And The Making Of Psycho was that Jessica Biel had signed on to play Vera Miles in it. Sure we're all spitting to know the ins and outs involved in the upcoming account of the making of Hitchcock's most famous film, but WHO CARES ABOUT CASTING NONSENSE when there are LOVELY PICTURES to look at? The first shot of Hopkins in full Hitchcock attire has been released, and we tell you what, it makes DiCaprio's J Edgar look like a kid with some playdough on his face.
LOOK! THAT'S HANNIBAL LECTER RIGHT THERE!
Just as a point of comparison, try the actual Hitchcock on for size:
This is great. Well done everyone. With a cast that includes Scarlett Johansson, Helen Mirren and James D'Arcy, Alfred Hitchcock And The Making Of Psycho looks set to be the most visually un-embarrassing film we've seen in ages. Splendid.
About The Author