First poster for Gemma Arterton's vamp drama Byzantium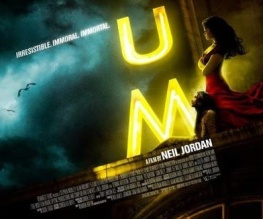 Vampires! Creatures of the night and such. Run from them for they will sucketh upon your neck! You know, all that stuff. We haven't heard much about vampires in recent times, so dangnabbit is it refreshing to see a film like Byzantium coming to our screens. Joke, obviously. Those vampire guys are everywhere. Having said that, this film looks like it will be far more Anne Rice than Stephenie Meyer, which is good. Plus it stars Gemma Arterton and Saoirse Ronan, both of whom have received the much-coveted BFF stamp of approval.
Following on from some saucy set photos which got everybody's knickers in a twist is the first official poster for Neil "Interview with the Vampire" Jordan's flick.
Click to go large and in charge.
So that's a pretty cool poster, right? There's something relatively bold about its branding, seeing as it's not exactly apparent that this is a film about vampires. Are you trying to trick us into thinking we're watching a real film, Neil Jordan? Because we're cool with that. We also like the tag line "Irresistible. Immoral. Immortal" because it reminds us of everyone who works here at Best For Film.
About The Author