First poster for Judge Dredd now online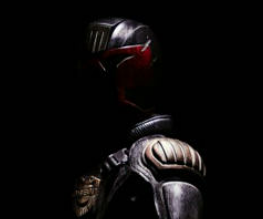 So about a month ago, after getting our mitts on some fairly explodey-exciting Dredd stills, we confidently predicted that in the next couple of weeks we'd see a trailer. Oh ho ho, we'd see a trailer alright. And as with most of our predications, it turned out to be totally wrong. Still, a poster is nice, isn't it? Always nice to look at a poster.
Directed by Pete Travis (opf 2008's Vantage Point and… erm… yes well) and starring Karl Urban and Olivia Thirlby, Dredd is hopefully going to be a dark and gritty take on a pretty dark and gritty Judge Dredd comics – based in a world where the police have the power to arrest, sentence and execute criminals at will. Take a look at the poster below:
We're actually fairly excited about this incarnation of Dredd – especially considering how different it looks to the hilariously dreadful Sylvester Stallone version back in 1995. Shall we… let's just have one more look at those lips..
Oh Dredd. You flirt.
About The Author