First poster for Sin City: A Dame To Kill For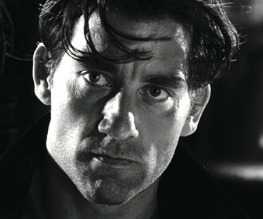 Though as far as we can tell Robert Rodriguez and Frank Miller have yet to even really start casting on the Sin City sequel A Dame To Kill For, there's certainly no harm in reminding us just how damn cool it's going to be when it finally does hit. An initial poster has been released, and basically serves to confirm that the aesthetic hasn't changed. Which, you know, we were really worried about and stuff.
A Dame To Kill for centres around our old pal Dwight (Clive Owen, as if you need reminding) as he does all sort of relentlessly cool killing and shooting in the name of old flame Ava – some lass who will probably be nude for most of the film. Problem is, Ava is (obviously) a money-grabbing hell whore, who will only lead Clive down a path of death and destruction. Word is that Mickey Rourke and Rosario Dawson are set to reprise their roles as Marv (general badman) and Gail (LEADER OF PROSSIES), and it can't be long before the rest are far behind. Anyway. Poster!
It sounds like everyone wants Angie Jolie to play Ava. For our part, we feel like it might be quite refreshing to see Julie Walters in the role. Anyone? Just as a… just for a bit of a change?
Who do you think should be naked and angry all the time? Excited for a Sin sequel or a bit bored of the whole Noir thing? TELL US YOU SCARRED WARRIORS YOU
About The Author