First teaser from new Marvel short film Item 47 released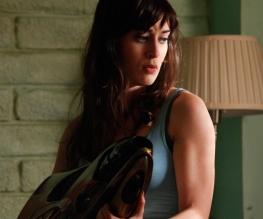 In the interests of making Blu-ray seem less of a profound waste of your money, Marvel Studios will be including a short film in the bonus features of The Avengers Blu-ray disc, as they did last year with Thor and Captain America: The First Avenger. Both of these featured -SPOILER ALERT LOOK AWAY NOW IF YOU HAVE JUST WOKEN FROM A COMA AND THUS HAVEN'T SEEN THE GREATEST FILM OF OUR TIME – our dearly departed Agent Coulson, throwing his S.H.I.E.L.D weight around and more or less just getting shit done. However, in the wake of his death, Marvel have introduced Lizzy Caplan (Mean Girls – no, look harder) and Jesse Bradford (Romeo + Juliet) as an incarnation of Bonnie and Clyde far less cool, but infinitely cuter than the Beyonce/Jay-Z version of 2003. Here's the clip.
Some particularly devoted Iron Man obsessives have already seen this twelve-minute wonder at Comic-Con, in which Caplan and Bradford find one of Loki's alien's bazooka-type instruments of death and conspire to start robbing liquor stores and the like with it. In his-and-hers balaclavas. Whatever; worse plans have been made when idiots manage to gain control of heavy artillery – see George Bush. The film is directed by Marvel co-president Louis D'Esposito, who didn't give up much in the Q&A following the film's screening, but has, thank fuck, reassured us that the latest incarnation of Spider-Man will be unlikely to have anything to do with The Avengers. Ant-Man, however? They pleaded the fifth. God help us all.
The Avengers is out on Blu-ray on September 25th 2012.
About The Author