First The Woman In Black trailer now online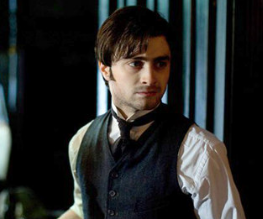 For ages now we've been waiting with our breath bloody well bated to see how Daniel Radcliffe does in a role where he's not waving his wand around the whole time (Equus is out then LAWL). Lucky for us, then, that the first teaser trailer of The Woman In Black hit the interwebs this very day.
Based on a book by Susan Hill, The Woman In Black is a gothic horror story about a young solicitor (Radcliffe) who visits the house of a recently deceased woman by the name of Alice Drablow. In trying to sort out her accounts, he begins to spy a mysterious young woman with a ravaged face around Miss Drablow's estate, and, well… as you can imagine, it doesn't end in a dance-off.
Take a look:
Considering he's getting solid reviews for his Broadway performances in How To Succeed In Business Without Really Trying, and with the magical boy finally behind him, could it be Radcliffe is growing up? We're still not totally convinced, but considering the screenplay for WIB has been penned by none other than Jane "Kick-ass" Goldman, we're still excited to find out.
The Woman in Black is out in the UK on Feb 12th 2012. Ah. Still a while to wait, then?
About The Author