First trailer and poster for Safety Not Guaranteed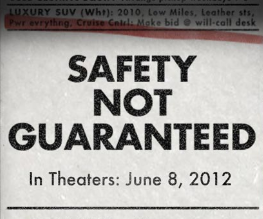 When the first thing you hear about a film is that it's from the producers of Little Miss Sunshine, your expectations can't help but leap. Safety Not Guaranteed, from first time director Colin Trevorrow and first time writer Derek Connolly caused quite a stir at the US Sundance Film Festival in January – picking up distribution from Film District. It's hitting our shores for the UK Sundance in a month, and word is its going to take us all by storm too. So what's all the fuss about?
Safety Not Guaranteed follows a team of three journalists who decide to write a story about a strange ad they find in the local paper. Written by a lonely, paranoid store-clerk, the ad promises that a chosen partner will be able to go with him back in time; they will need their own weapons, safety is not guaranteed, and he's only done this once before. But the more the team learn about this man, the more mysterious he becomes. What will happen when the moment comes to time-jump? And, having gotten to know him, can they bear to out him as a maniac? Watch the trailer below. It's lovely.
Well paced, intelligent and funny – this is one of the best trailers we've seen in ages. The cast looks uniformly strong, the concept is solid, interesting and original (sure it's a little KPAX but who doesn't want more films like KPAX?) and we're damn well looking forward to learning more. Have a poster as well. You earnt it:
Though it's not got UK distribution yet, it's only a matter of time. HURRY UP TIME, WOULD YOU.
About The Author