First trailer for Disney's Wreck It Ralph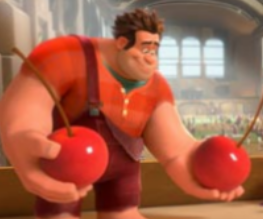 GOSH, it's trailer central today. Not only have we finally had a look at the first footage for Django Unchained, we've also got access to the first trailer for Disney's Wreck It Ralph; a film that promises serious nostalgia joys for gaming kids of the 80s and 90s. So, us. HURRAH FOR US!
So, Wreck It Ralph (John C Reilly) has spent the last 30 years working hard as a villain in an arcade game. He, alongside other classic gaming baddies such as Dr Robotnic, Bowser, Zangief and the Pacman ghosts have to struggle through their unfulfilling roles as permanent antagonists, never getting the love from their audiences they so crave. But one day, Ralph decides enough is enough. Watch on…
Ok, yes, so it's very easy to be utterly charmed by the pop-culture references, but hey – if Scott Pilgrim vs The World can seduce us with 90s game stylings, why not this? Jane Lynch looks to be on glorious Sue Sylvester-esque form, and even Sarah Silverman (who, let's be honest, we can take or leave) seems to bring some sharp timing to the project as the little girl in Sugar Rush. The baddie self-help group is just lovely (though with shades of Pixar's last Toy Story short where the fast-food toys were suffering from abandoment issues?) and all in all it looks exciting, heart-warming and different. At the end of the day, BOWSER IS THERE. BOWSER. Do you think Yoshimitsu might get involved? Or Kirby and his dreamland? Or…or… like, a bit of Tetris? the long, thin one maybe? So many possibilities.
About The Author