First trailer for Jason Segel's The Five Year Engagement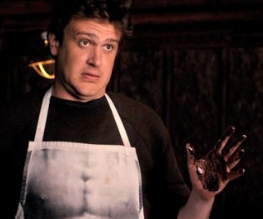 Though it's pretty fair to say that 2011 will be remember as the Year Of Gosling, it's looking more and more likely that next year might belong to Jason Segel. With the weepingly anticipated Muppet movie, his appearance in the Knocked Up sequel This Is Forty as well as writing and starring in what looks likely to be an utterly charming flick The Five Year Engagement, we're excited to see what he puts his hilarious brain to next. But first, trailer fun!
The Five Year Engagement follows Tom (Segel) and Victoria (the lovely Emily Blunt); two young lovebirds who decide to tie the knot. But somewhere between asking the question and walking down the aisle, Victoria's career gets in the way. Re-locating to Michigan after a big promotion, the couple are forced to put the nuptials on hold indefinitely – but how much long can two people wait? Written by Segel and Nicholas Stoller – ie the two guys behind the Muppet script – this just looks bloody marvellous:
To our minds it has a touch of this year's (rather underrated) Go The Distance about it – two genuinely likeable romantic leads whose frustrations are brought about by circumstance. Segel and Blunt look to be on top comedy form, and, frankly, she gets shot in the leg with a dart. We can't wait.
About The Author