First trailer for poker documentary All In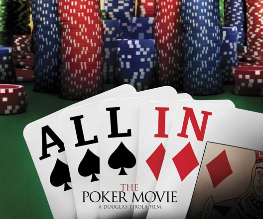 In terms of staples of American culture, you can't get much more iconic than the image of a good ol' poker game. From classics like The Sting and Casino Royale to Lock Stock and Ocean's Eleven , it doesn't look like we're going to be walking away from the world's most glamourous game anytime soon. A new documentary exploring the lasting draw of poker is going to be hitting our screens in a couple of weeks, and the trailer features Matt Damon a bit. ALL WE NEED TO KNOW.
Directed by Douglas Tirola and featuring true poker legends such as Chris Moneymaker, Phil Hellmuth and Annie Duke, this is obviously a must-see for gambling fans everywhere. It also looks like a genuinely fascinating look at an enduring facet of Yoo Us popular culture, so there's not really any excuse for the rest of us either:
[swfobj src="http://cinemablend.springboardplatform.com/mediaplayer/springboard/video/ci030/39/453067/" width="480″ height="268″ allowfullscreen="true"]
FLUSHed with excitement? Heading STRAIGHT for the cinema? Hoping they don't already have a FULL HOUSE? Getting your tickets to HOLD-EM up high? Erm… other things about chips being down… YEAH POKER! MATT DAMON ENDORSED! POKER!
About The Author