First trailer for Sherlock Holmes 2 is ineffable twaddle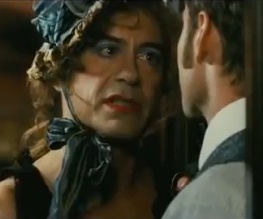 It's all happening again. The first trailer for Guy Ritchie's second unconscionable gutting of the Sherlock Holmes canon has been released, and it's just as testosterone-laden and homoerotic as the last one. Please do think carefully about whether or not you really want to watch this video (but if you do, feel free to gloat at the intro from Robert Downey Jr. commending it to the eyes of iTunes users only. Hee hee.):
Are there any words left? We're not sure that there are. The whole damn trailer is nothing but expansive & expensive action shots, recycled one-liners (the face/hand/face thing was in the last film) and gratuitous explosions, machine guns and all the other Action Man trappings without which Ritchie just can't make it through the day. AND Stephen Fry isn't in it. We don't think we could be more bored or underwhelmed if we tried…
Sherlock Holmes: A Game of Shadows is out this December. Don't see it.
About The Author