Fox Demand Chronicle 2 Rewrites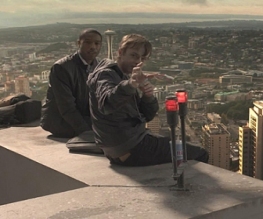 If you ask us, Josh Trank's Chronicle is one of the cinematic highlights of the year so far. Grounding its shaky-cam heroics in a emotional realism that Christopher Nolan's Batman films could only dream of, the film managed to fly a bus in the face of convention with its relatively low key tale of teenage relationships.
Even less concerned with the survival of his characters that Joss Whedon, writer Max Landis' script built to an unflinching climax that felt both honest and earnt, but which paved the way for an appealingly uncertain future at the hands of a society that has just had the rug pulled from beneath it. The script for his follow-up, described by father and genre icon John Landis as "amazing" , would have continued this story.
Would have.
Should have.
According to Landis senior, 20th Century Fox have ordered that the script be re-written so that it essentially delivers more of the same. Presumably while Trank is rebooting the studio's Fantastic Four franchise.
This is why we can't have nice things.
About The Author