G.I. Joe 3 is happening, Jon M. Chu returning as director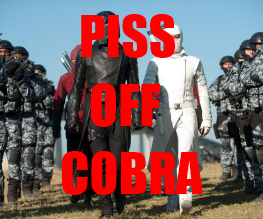 G.I. Joe 3 has been confirmed as happening, and the first crew member returning to the ludicrously awful franchise is director Jon M. Chu. One can only imagine the hi-jinks that Scorpion King and Darth Maul and Magic Mike (oh wait he's dead isn't he?) will get up to in G.I. Joe 3. Actually we'd rather not imagine – G.I. Joe: Rise of Cobra was profoundly awful and it felt like G.I. Joe: Retaliation was punishing us for something we didn't do.
Considering that G.I. Joe: Retaliation is currently the 8th highest grossing film of 2013 so far, it's not hard to see why Paramount would be eager to continue shoving this bilge down our throats. There's also all the merchandising and G.I. Joe figures to sell. No word whether Dwayne 'The Rock' Johnson will return to fight the forces of Cobra, but considering he was the only bright spot in G.I. Joe: Retaliation, Jon M. Chu should be doing everything in his power to keep him on the pay roll.
With a bit of lot of luck, G.I. Joe 3 might actually be watchable. Hopefully the studio won't have all the kerfuffle of costly re-shoots and post-conversion 3D to worry about like they had with G.I. Joe: Retaliation.
Prepare to yell "YO JOE" and "I'M WALKING OUT OF THIS CINEMA BEFORE I DIE OF BOREDOM" like never before in G.I. Joe 3.
About The Author