G.I. Joe is getting a third film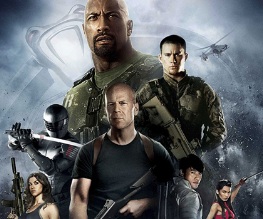 G.I. Joe has been green-lit for a third installment after G.I. Joe: Retaliation got off to a flying start at the box office over the bank holiday weekend. This may be down to the 3D conversion proving to be a hit with cinema-goers. G.I. Joe Retaliation, co-produced by MGM, outperformed the first G.I. Joe film, The Rise of Cobra, by 35% globally thanks to the increased 3D ticket price. If the film keeps up this good performance, it looks to fetch around $410million worldwide. Paramount are yet to officially confirm the tragic news.
G.I. Joe: Retaliation, which was delayed for nine months while it converted into 3D, stars Dwayne "The Rock" Johnson, Channing Tatum and Bruce Willis. It is based on characters from Hasbro's G.I. Joe range of toys – that's TOYS – and sees the Joes fight back against their old Cobra adversaries once more. Hasbro are also responsible for the Transformers toys and thus the Transformers films which made Michael Bay pots and pots of money.
About The Author