Gaga, Timberlake and more join charity twitter campaign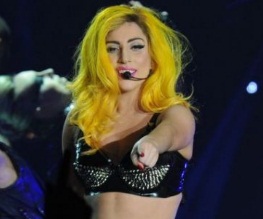 Lady Gaga, that multi-textured disco spike, is currently the most popular person on Twitter with over seven million followers world-wide. But fans across the globe gleefully up to date about whatever ridiculous hat she's going to be wearing next are in for a shock. Gaga, along with top tweeting celebs such as Justin Timberlake, Elijah Wood and Jennifer Hudson, have entered into a campaign organised by Alicia Keys – where celebs boycott social networking sites for charity.
The campaign hopes to raise a million dollars for AIDS charity Keep A Child Alive by promising that the world's favourite celebs will not return to their twittery ways until the amount is reached. How very noble. Considering that Lady Gaga apparently spends upwards of 80K on bath tubs alone, it might be a lot more efficient for these people to use their excess tweeting energy on writing cheques (they're less than 124 characters). But still, it's all for a good cause, eh? So how long before the world gives in and starts feverishly donating cash in order to get their celebrity heroin back? Perhaps the more pressing question is, how long can the financial world survive without the constant word contributions of Justin Timberlake? Only time will tell.
About The Author