Gary Oldman teams up with Tom Hardy (again)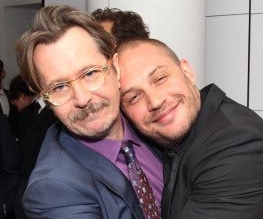 Child 44 is definitely the movie to watch out for. Not only does it have Tom Hardy in the lead role but now it has managed to gather Gary Oldman in to the fold. In Tinker Tailor Soldier Spy they worked together to uncover a mole before becoming adversaries in The Dark Knight Rises and then facing off in Lawless.
Produced by Ridley, Child 44 will also feature the talents of Noomi Rapace and Joel Kinnaman with Safe House director Daniel Espinosa bringing the entire project to life. Based on the book by Tom Rob Smith, Richard Price's script follows the story of an idealistic pro-Stalin security officer investigating a series of child murders in 1950 Soviet Union. Hardy's Leo Demidov will be helped by his mysterious wife (Rapace) while Kinnaman will take on the role of his ambitious but violent co-worker. Oldman will be tracking Hardy's character as the head of the police force.
Filming will begin this June with the hopes of a 2014 release.
Can you even count the butterflies this casting gives you? Keep trying and let us know all about it!
About The Author