Gemma Arterton to star in Tomb Raider 3 film?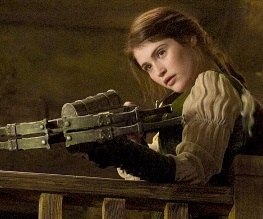 Yup, it's official; for all of you who didn't hear the news last week, a brand-new Tomb Raider film is in the works. And, thanks to the fact that it's based on the popular Survivor reboot of the infamous gaming franchise, it's safe to say that Angelina Jolie will not return as Lara Croft this time around; they're in the market for someone aged 21 (or younger), a little grittier and a little more naive.
The film rights have been bought by MGM Studios and, according to a recent press release, development "will begin immediately" – although no casting choices have been revealed just yet. And, for fans of the game, don't worry; Graham King of Crystal Dynamics is set to serve as producer and developer on the new movie:
"I am thrilled to partner with [the] MGM team on rebooting this successful TOMB RAIDER film franchise. The enthusiasm over the recent game release is very encouraging and we can't wait to bring it to the big screen."
No casting has been announced, but it's safe to assume that Angelina Jolie will NOT be reprising her role as Lara Croft for the film. And, despite the fact that we here at Best For Film have already backed Felicity Jones as our top choice in the Lara casting race, Laurie Scudder (creator of the official fansite Survivor Reborn) has revealed her controversial first choice for the film's infamous big-breasted archaeologist:
"A lot of people say they think that the voice actress, Camilla Luddington, should have a shot, but I'm really not a fan – she can just about do a British accent! If I had to pick, then I would say Gemma Arterton."
Yup, Gemma Arterton. Gemma Arterton. Clearly Lara Croft's fans haven't see Hansel And Gretel: Witch Hunters just yet…
Whatever. At least we know that the new film is set to do away with that sexy angular woman walking into blocky cave walls; the rebooted Lara Croft is a self-confessed tomb-hater ("I hate tombs"), she's younger, she makes mistakes, she gets impaled by jaggy spikes, she fights off lecherous men AND she doesn't know how to raid tombs yet. And she has a bow and arrow. It's a bit like The Hunger Games met up with the old Tomb Raider and Hanna for coffee, ended up having a bizarre three-way and created some sort of wonderful hybrid adventure-seeking baby. That's Survivor. And Angelina Jolie doesn't really fit into this vision, in our opinion – the Tomb Raider reboot needs to make like Batman Begins and dissect the hero in order to uncover more potential than anything that ever came before.
Anyone else think a reasonably unknown actress is the way to go with this one…?
Who do you think should take the lead in the upcoming Tomb Raider 3 film?
About The Author